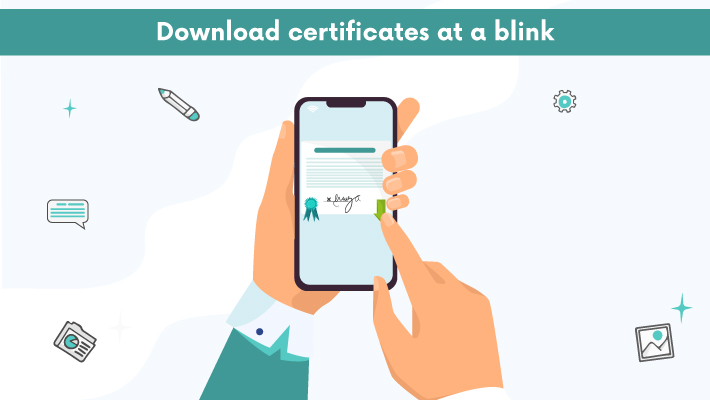 Download certificate in moodle which is added as a block shows all previously given certifications without requiring you to go inside each course. The certificates can also be downloaded straight from the block report. It may also be used for courses that need to be preserved but students still want to be able to get their certificates. Make sure the course visibility is set to "Enrolled users only" and that all other resources are hidden except the certificates. All previously issued certificates can now be downloaded as a Zipped file, which is a new feature.
But what If you want the certificate sent directly to your Learner?
So, here comes the Instant Download certificate plugin created by eLearningstack. The plugin along with downloading the certificates directly from the dashboard gives the privilege to email as well.
Salient features of the Plugin
Instant certificate download
The admin can access all the allotted certificates to different users from his dashboard. Also, the Leaners can access their certificates.
The admin or learner has also been given the privilege to download certificates as well as to send them in email with just a click when mail is configured. The admin can send certificates to several learners. On the other hand, the learners can self-email their certificates.
Repository for future use
All the allotted certificates can be accessed in the future as well. So, you never lost your certificates achieved.
What values it can give to your Business?
This plugin helps you to retain your users' interest as they will get the entitled certificates as and when required. Thus, this plugin will act as a repository for the user base with its extremely effective features.
If you are seeking a plugin that provides such functionality, then this is the best alternative for your requirements. Visit the website http://www.elearningstack.com to learn more about its fascinating features for eLearning websites.